Tesla Model 3 Performance tries out Porsche's 0-90-0 mph aircraft carrier challenge
A few days before the Porsche Taycan official unveiling event, the German auto maker debuted a video demonstrating some impressive speed capabilities of the new all-electric sports car on a very special "track" for the occasion. The American aircraft carrier USS Hornet played host to a 0-90-0 mph acceleration and braking test, which clocked 10.7 seconds for the total Taycan run (although the video description says 10.17 seconds). As to be expected from the Tesla owner community, this feat was then challenged in a similar run using a Model 3 Performance, albeit with less impressive scenery.
The Model 3 Performance test run was undertaken and published by Tesla owner and enthusiast Erik from YouTube channel DÆrik, and the results were impressive despite coming in a bit slower than the Taycan test. For the 0-90 mph portion, the Model 3 clocked in at 6.87 seconds; however, braking didn't begin until the car reached 96.9 mph at 7.90 seconds. From 90 mph to 0 mph, 4.01 seconds elapsed. The total run took 12.4 seconds, although the numbers aren't ideal given the delay in braking. Removing the extra time from 90-96.9 mph, while acknowledging it's an imperfect method for time testing, brings the Tesla's total time for the 0-90-0 run to 10.88 seconds. A few more runs would have been useful for comparison's sake, but these results alone – a $56,000 midsize sedan vs. a $150,000 sports car – bode very well for the Model 3 overall.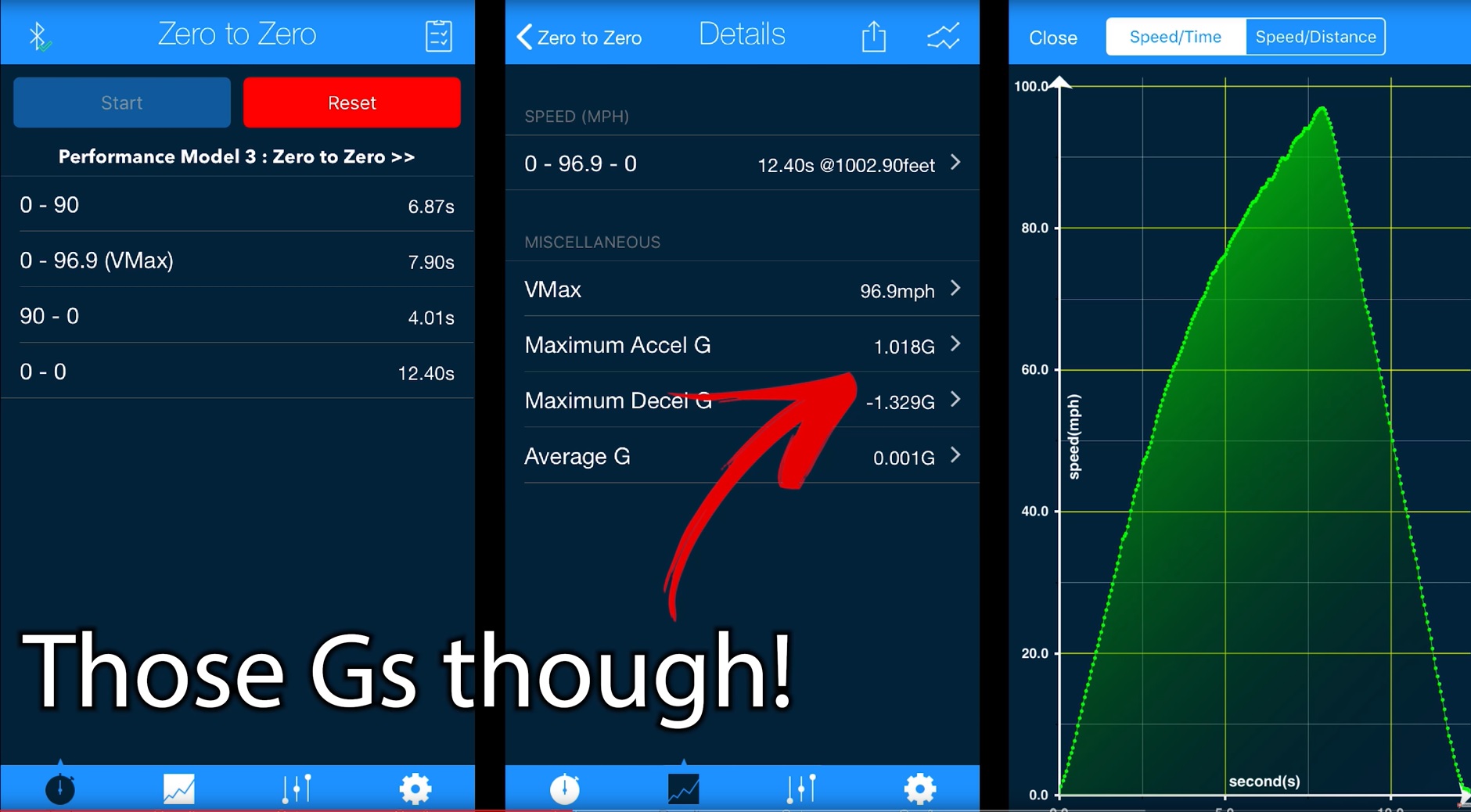 Aside from the lack of an aircraft carrier (and perhaps its surface), there was at least one notable difference between the two tests. Specifically, the Model 3 was a production version of the vehicle with minimal modifications such as ceramic brakes. The Taycan used on the USS Hornet was a prototype of the vehicle, and thus it's unclear what differences were present compared to any of the other three variants of Porsche's new electric sports car.
The Porsche Taycan was only recently unveiled, but comparisons between the brand's entrance into the world of all-electric vehicles (EVs) and the existing Tesla production vehicles are already plentiful and ubiquitous. Thanks to Tesla's dominance in battery range and impressive performance stats for every model offered, the Taycan's hefty price tag seems to be one of the biggest factors driving negative reviews. After all, every Model 3 variant is in a much more affordable price range than any of the Taycan variants. As the positive reviews indicate, though, Porsche's goals for their vehicles have always and will always be miles away from Tesla's mission. Tesla aims to make electric cars accessible worldwide to nearly every type of consumer while Porsche is, well, Porsche.
Not one to back down from a challenge, CEO Elon Musk has recently indicated that Tesla will be taking on the Taycan soon in a more official capacity. A newly released video of the Taycan's run at the Nürburgring track in Western Germany showed the performance EV achieving a record-setting 7 minutes, 42 seconds lap time, and now the Model S will challenge those numbers. "Model S on Nürburgring next week," Musk teased on Twitter. A 2014 test by an independent Model S driver on the same track was hindered by power limitations and overheating; Tesla has since updated the power management software. Perhaps the record will be straightened out next week with both Musk's and Tesla's stamp of approval of the results.
Watch Erik Strait's full 0-90-0 mph run in his Model 3 Performance below:
The post Tesla Model 3 Performance tries out Porsche's 0-90-0 mph aircraft carrier challenge appeared first on TESLARATI.
Read More
Author: Dacia J. Ferris